DID YOU KNOW…
1. Over half of new diagnosed diabetes cases were in adults 45-
64 years old.
2. New diabetes cases were higher among non-Hispanic blacks 
and Hispanics than non-Hispanic whites.
3.Nearly 16% adults diagnosed with diabetes were smokers,
nearly 90% were overweight, and more than 40% were
physically inactive.
What can you do to lower your risk?
We are offering a Diabetes Prevention Program in August. See flyer below and contact Tyisha Terry at 252 492-7915 for more information.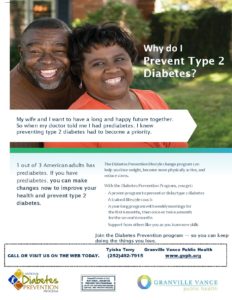 Leave a reply →