GVPH has received the Moderna COVID-19 vaccine
and is currently vaccinating anyone over the age of 18 (Groups 1-5). 
What You Should Know
The vaccine is free everywhere in North Carolina.
No photo ID or insurance is needed.
GVPH is currently providing vaccines by appointment only.
U.S. citizenship is not required or checked.
All approved vaccines have been proven to help prevent COVID-19 and are effective in preventing hospitalization and death. Some are given in one shot and others in two.
If your vaccine requires two shots, you will get a printed card and your second dose appointment will be set when you receive your first dose.
Are children able to get vaccinated? What about pregnant women? Find out the answers in NC DHHS frequently asked questions about who can get a COVID-19 vaccine.
See more information about which group you are eligible for at Find Your Spot to Take Your Shot.
The NCDHHS COVID-19 Dashboard has the most up-to-date information about vaccines given across our health district and North Carolina.
More information from the North Carolina Department of Health and Human Services here. 
More information from the CDC here. 
Scheduling a Vaccine Appointment
For the week of April 5th, the COVID-19 Vaccine Hotline is open from 8:30am-5pm Monday through Thursday
and we have appointments available.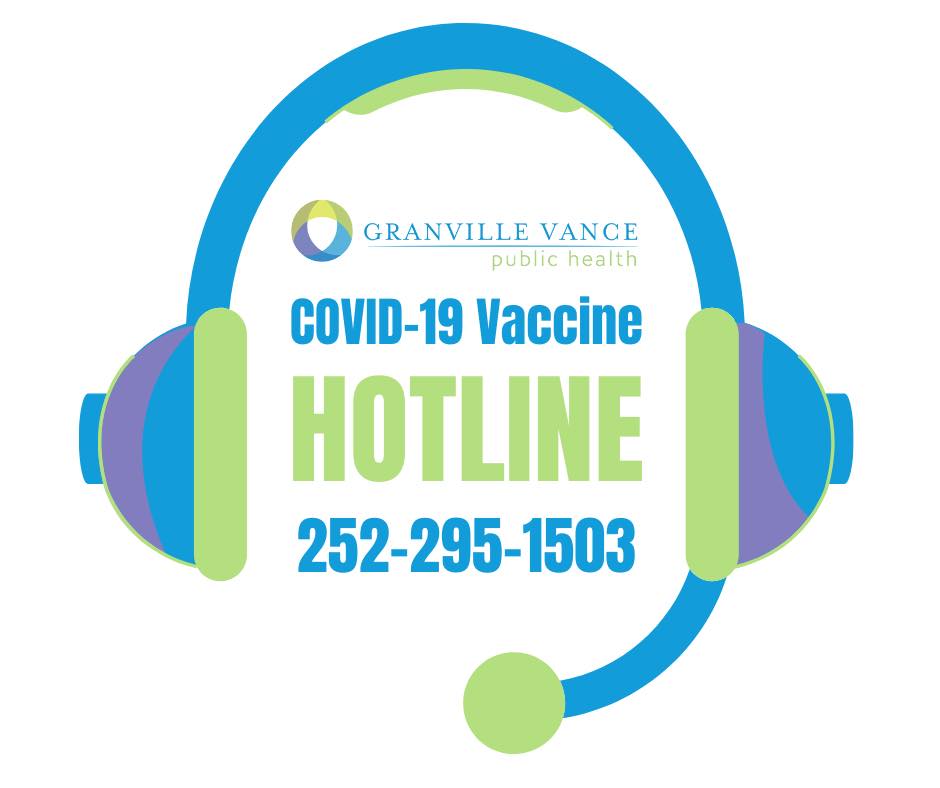 Please call the GVPH COVID Vaccine Hotline at 252-295-1503 to schedule an appointment. We are currently providing vaccines by appointment only – please do not show up to the health department without an appointment. We are receiving a high volume of calls so we appreciate your patience. We ask that individuals not leave voicemails regarding vaccine appointments as we are unable to return calls given the high volume of calls we are receiving.
In order to receive a vaccine, everyone is required to be registered in the COVID-19 Vaccine Management System (CVMS) – see more about CVMS here. When you call to make an appointment, you will be asked a series of questions in order to get you registered in CVMS if you are not already registered.
There are limited appointment slots as we are only scheduling appointments 1-2 weeks in advance so we can ensure we have sufficient vaccine supply to meet demand. We open appointments back up as soon as we know how much vaccine we will receive in the coming weeks. We don't want to make appointments and not have a vaccine for you so that's the reason for being careful about every appointment matching a vaccine dose on site. Thank you for understanding that although we are getting more vaccines each week, we do not have an endless supply – we depend on state shipments and availability. We find out toward the end of the week how many doses of vaccine we will receive for the following week.
Other Local COVID-19 Vaccine Providers

 
Find local vaccine providers near you by visiting https://myspot.nc.gov/. Locally, Maria Parham Hospital and Granville Health Systems are offering appointments for eligible individuals while vaccine supplies last.
Maria Parham Hospital is administering vaccines at the Maria Parham Health COVID Vaccine Clinic, 566 Ruin Creek Road in Henderson, on Tuesdays and Fridays from 9:45am to 2pm. Appointments can be made by calling 252-436-1693 from  8am – 4:30pm Monday through Friday.
Granville Health System offers the vaccines by appointment only in the parking lot of Granville Primary Care & OB/GYN located at 110 Professional Park Drive in Oxford, on the campus of Granville Medical Center. Appointments can be made at the following link: https://www.ghshospital.org/patients-visitors/ghs-covid-19-vaccine.
Information for Employers & Community-Based Organizations
If you are an employer of essential workers with less than 20 employees interested in vaccination, please encourage your employees to call the hotline.
If you are an employer with more than 20 employees, you can help get your employees registered in CVMS to expedite the appointment scheduling process. To do so, please use the CVMS Recipient Bulk Upload Template to submit an Excel file with the First Name, Last Name, and Email Address of all employees. In completing the spreadsheet, please ensure there are no Jr., I, II, etc. on the last name and that there are no hidden spaces after the names or emails as this will make it easier for us to upload into the CVMS system. Once the spreadsheet is complete, please email it to us at COVID19Vaccine@gvdhd.org. Please include the name of your facility and what type of facility you are in the subject line of the email as well as the body of the email. Once we upload the document to CVMS, staff will receive an email from CVMS within about 72 hours instructing them to sign up for an account in CVMS and fill out a survey which will designate their group for vaccine. Please notify your staff to expect this email from NCCVMS@dhhs.nc.gov as these emails sometimes end up in the junk/spam folder. Registration with CVMS it is a required step to obtain vaccine at this time.
Employers or community-based organizations that are interested in booking 20+ appointments for their staff can inquire about doing so by emailing COVID19Vaccine@gvdhd.org. Organizations who would like to request on-site vaccination events can also do so by emailing COVID19Vaccine@gvdhd.org. Please note, we make decisions about our ability to come on-site to vaccinate staff based on the number of staff interested in vaccination, vaccine availability, and staff availability. We are typically unable to commit to on-site vaccination more than a week in advance as our vaccine allocation and staff availability vary each week. The fastest way to get employees vaccinated is to encourage them to call the hotline.
Thank you for your patience and grace as we work as hard as we can
to get to everyone just as soon as we can!
North Carolina's Vaccine Rollout Plan
Great care has been taken to ensure COVID-19 vaccines are safe and effective and they will be available to all for free! Getting vaccinated is critical for stopping the spread of COVID-19.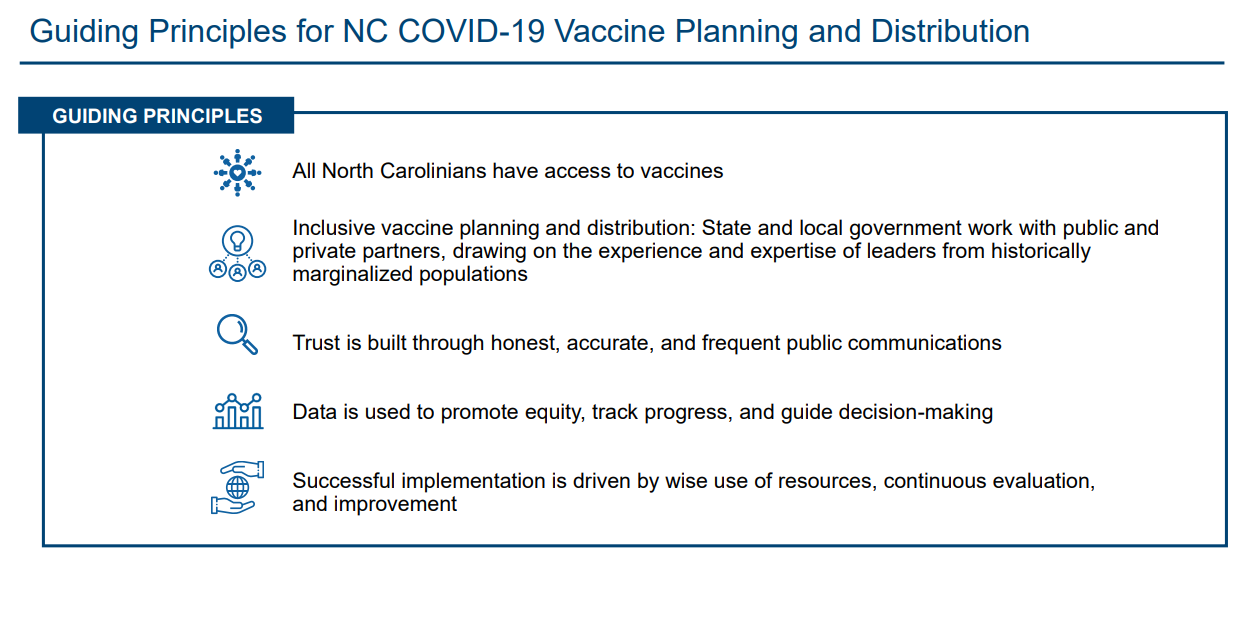 Safety and Effectiveness of COVID-19 Vaccines
Although the vaccines were developed quickly, they were built upon years of work in developing vaccines for similar viruses. Development time was cut without cutting corners. More than 100,000 people volunteered in clinical trials for all three vaccines (Pfizer,  Moderna and Johnson & Johnson) to see if they are safe and work to prevent COVID-19 illness. Volunteers included Black/African Americans, Hispanics/Latinx, Asians and others. To date, the vaccines are extremely effective in preventing death and hospitalization from COVID-19 with no serious safety concerns noted in any of the clinical trials.
The U.S. Food and Drug Administration (FDA) makes sure the vaccines are safe and can prevent people from getting COVID-19. Like all drugs, vaccine safety continues to be monitored after they are in use. Healthcare providers are required to report serious side effects, or if someone gets seriously ill with COVID-19. There is also a smartphone-based health checker called V-SAFE that uses text messaging and web surveys to do health check-ins after people receive a COVID-19 vaccination.
Learn more about the safety of all of the COVID-19 vaccines here.
NC DHHS 10 Facts You Should Know About COVID-19 Vaccines

 
The vaccines are found to help prevent COVID-19 and are effective in preventing hospitalization and death. Millions of people in the U.S. have already received them.
COVID-19 vaccines are built on years of work to develop vaccines for similar viruses.
You cannot get COVID-19 from the vaccines.
There are no serious side effects. You may have temporary reactions like a sore arm, fever, headache or feeling tired and achy for a day or two after receiving the vaccine.
The vaccines teach your body how to create a protein that helps you fight COVID-19. The protein and vaccine leave your body after they are finished and cannot be tracked.
The vaccines are free to everyone, even if you don't have health insurance.
Personal information about your health and identity is carefully managed to protect your privacy. It is not shared with CDC or ICE.
Follow the 3 Ws—wear a mask, wait 6 feet apart from others and wash your hands—before and after getting the COVID-19 vaccine. This is everyone's best protection from getting and spreading COVID-19.
Vaccine supply is limited right now, but you have a spot to take your shot.
Everyone has a spot for honest information on COVID-19 vaccines and where to get vaccinated. Go to YourSpotYourShot.nc.gov or call the COVID-19 Vaccine Help Center toll-free at 888-675-4567.
See a PDF version of this information here (Spanish).
COVID-19 Frequently Asked Questions (FAQs)
See answers to your frequently asked questions on the NC DHHS COVID-19 vaccines webpage.
Last updated