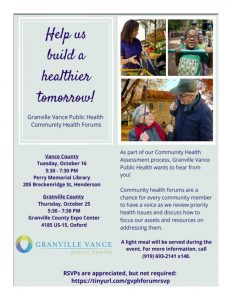 Back in July we walked door to door asking residents to talk to us about what they felt were community concerns, safety issues, and what resources are needed.
Well now, As part of our Community Health Assessment process, Granville Vance Public Health wants to hear from you! We will hold a forum in the Granville and Vance Counties.

Community health forums are a chance for every community member to have a voice as we review priority health issues and discuss how to focus our assets and resources on
addressing them. YOU will have the opportunity to tell us what concerns are most important!
RSVPs are appreciated, but not required:
https://tinyurl.com/gvphforumrsvp
We hope to see you there!
Your Environment. Your Community. Your Health.
Last updated