Granville Vance Public Health offers all pregnant women access to early and continuous prenatal care. This service is available to all women regardless of income on a sliding fee scale and provides routine care for low-risk pregnant women, including regular check-ups, prenatal education, laboratory testing, nutritional counseling, breastfeeding support. Referrals are made for high-risk maternity care. 
The Centering Pregnancy Program 
Centering Pregnancy is a unique style of prenatal care as a group.  Its aim is to build a community that empowers women to be actively involved in their own care and better equipped to make healthy choices throughout their pregnancy and beyond. Expectant mothers meet for 10 sessions with a group of 8-10 other pregnant women with similar due dates. Each time a group meets, women have the chance to record their pregnancy progress, check their baby, address specific concerns one-on-one with their provider, and discuss pregnancy issues that are relevant to them as a group, including exercise, nutrition, stress reduction, signs of labor, breastfeeding, new baby care and postpartum issues.
Centering is a prenatal check-up, nurse visit and childbirth education all in one appointment!
Who can participate in CenteringPregnancy®?
Granville Vance Public Health is proud to announce that Centering is currently offered to all of our low-risk prenatal patients in both Spanish and English.
Top 10 reasons to join a Centering group:
No waiting. "We came at the same time and left at the same time and something happened the whole time we were there."
A time to talk with other pregnant women about pregnancy, birth and parenting.
Food to snack on at group.
Having fun at your prenatal visits!
Relaxed time with your provider.
Knowing the date and time of all prenatal visits at the first visit.
Time for lots of discussion!
A community of friends.
A chance to take an active role in your prenatal care.
One-stop-shopping; all of your prenatal care in one space.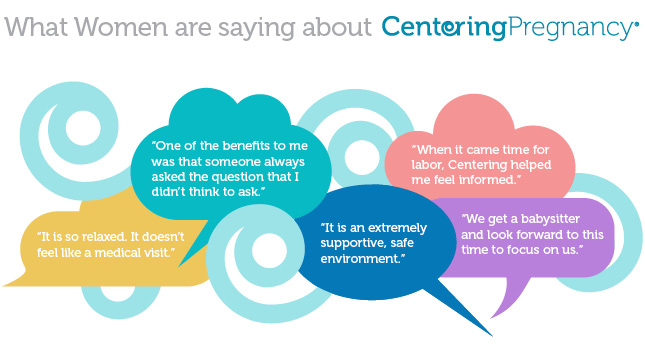 To learn more about CenteringPregnancy®, visit the Centering Healthcare Institute website at https://www.centeringhealthcare.org/what-we-do/centering-pregnancy.