A community health assessment (CHA) is a systematic process to collect and analyze community health information and prioritize community health issues. Granville Vance Public Health, along with many partners across both counties, conducts a CHA every three years.  The last CHA for Granville and Vance Counties was conducted in 2018.
Granville Vance Public Health conducted the 2018 Community Health Assessment for Granville and Vance Counties in partnership with the NC Institute of Public Health, Triangle North Healthcare Foundation, and a CHA Steering Committee.  Over the course of 9 months, the group gathered information directly from community residents through surveys and forums and reviewed state and national data.  The group identified three community health priorities as the most important and actionable issues to address to improve the health and well-being of Granville and Vance County residents:
Mental health and substance use disorder
Youth well-being
Access to health care
Poverty and health equity were also identified as underlying themes that influence how community health issues are addressed within Granville and Vance Counties.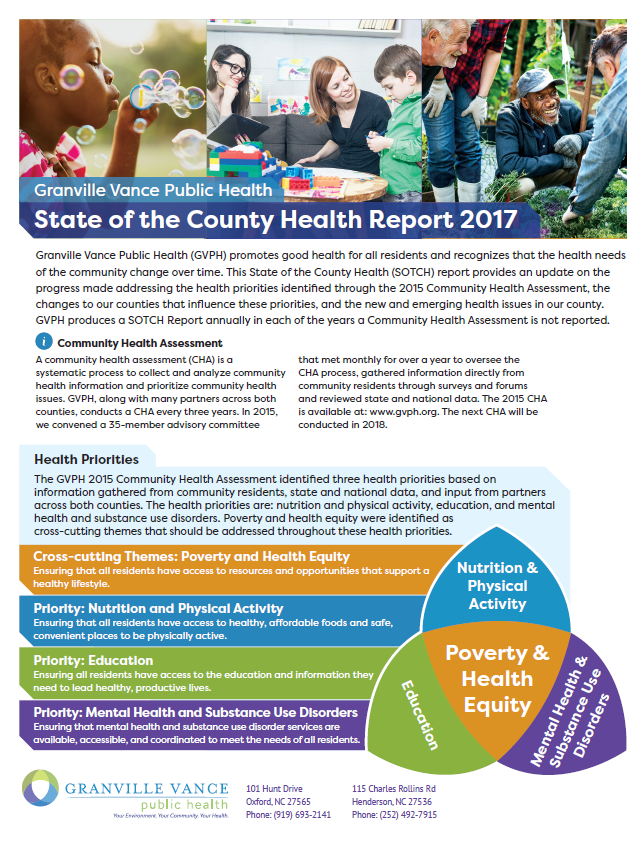 The State of the County Health (SotCH) report provides an update on the progress made addressing the health priorities identified in the most recent community health assessment, the changes to our counties that influence these priorities, and the new and emerging health issues in the counties we serve.
The GVPH annual report summarizes the programs and services provided by Granville Vance Public Health and the impact of that work in the surrounding community.  The annual report also includes financial reporting on categories of revenues and expenses.
For more information about GVPH community health assessments, please contact:
Kelsey Dickman, MPH
Health Promotion & Wellness Supervisor
KDickman@gvdhd.org
919-693-2141 x236