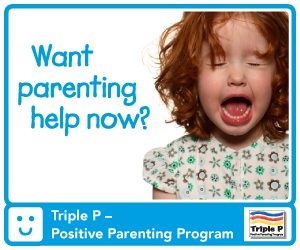 Triple P – Positive Parenting Program – is one of the world's most effective parenting programs.  With more than 30 years of ongoing research, Triple P is one of the few evidence-based parenting programs, with more than 230 trials and studies around the world showing it works – regardless of culture, country or individual situation.  Triple P has helped more than 6 million children and their families in more than 20 countries around the world.
Triple P is an internationally recognized program that gives parents the skills they need to build strong family relationships, manage misbehavior and prevent problems from happening in the first place.  Through Triple P, parents learn the skills they need to raise confident, healthy children and teenagers.  Triple P doesn't tell people how to parent, rather it gives them simple and practical strategies they can adapt to suit their own values, beliefs and needs.  Triple P also recognizes that one size doesn't fit all.  It's a system that offers increasing levels of support to meet parents' different needs.  To learn more about Triple P, please visit Triple P America.
If you serve families in Vance and/or Granville Counties, and are interested in learning more about Triple P or upcoming Triple P provider trainings, please contact:
Cassandra Faulcon, MEd
Triple P Coordinator, Halifax County Health Department
faulconc@halifaxnc.com
252-583-5021 x6277
To find a Triple P provider near you, click here.