Telemonitoring can help prevent a symptom from becoming a trip to the hospital. Granville Vance Public Health's Telemonitoring program is a fast, simple way for us to keep an eye on your vital signs and symptoms every day.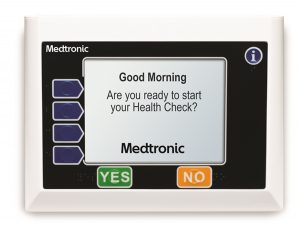 That means we can catch an early warning sign, such as a sudden rise in blood pressure or significant weight gain and treat it before it becomes a bigger problem. It also gives your physician information that is important for your ongoing care. Telemonitoring allows us to check your blood pressure, heart rate, blood glucose level, oxygen levels, weight and health status.
This telemonitoring program is possible thanks to the Medtronic's Commander Flex System. It lets you take your own vital signs with ease and sends them to us over your phone line or cell tower signal with the push of a button.
Thanks to a multi-year grant from HRSA (Health Resources and Services Administration), this service does not cost anything regardless of insurance status.
Download the Provider Referral Form
For more information, please contact:
Wendy Smith
(252) 492-7151
wsmith@gvdhd.org
Last updated