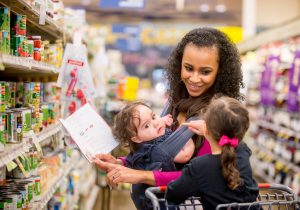 Women, Infants, & Children (WIC)
The North Carolina WIC Program provides supplemental nutritious foods, nutrition education, breastfeeding support, and referrals to health care and community resources.
The Granville Vance Public Health WIC Program has moved to an electronic benefit transfer system called eWIC. Instead of paper food instruments, food benefits will be issued to an electronic benefit account. Families will use their eWIC card and PIN to access their food benefits at the grocery store following a shopping list provided at the local agency.
To check your benefit balance, purchase history, and account information:
To find a WIC Grocer or Free-Standing Pharmacy:
To qualify for the North Carolina WIC Program an applicant must:
Be categorically eligible:  Pregnant woman, Breastfeeding woman who has had a baby in the last 12 months, Woman who has a baby in the last 6 months, Infant, or Child up to 5 years of age.
Live in the state of North Carolina.
Meet the income eligibility requirements for the program.
Meet with a nutritionist for an assessment and consultation.
An applicant is required to bring in proof of residence, proof of income, and proof of identification. If you receive Medicaid, Food Stamps (SNAP Benefits), or Work First then you automatically meet the income requirements for the WIC Program.
Check the WIC Prescreening Tool to see if you might be eligible for WIC benefits: https://wic.fns.usda.gov/wps/pages/preScreenTool.xhtml
Income Guidelines: Federal Poverty Income Guidelines Effective June 22, 2020
Federal Poverty Income Guidelines Effective June 22, 2020
By filling out this form, either the Granville or Vance County WIC  clinic will contact you within 10-20 business days: https://www.nutritionnc.com/wic/wic-referral.asp
---
USDA Nondiscrimination Statement / Aviso de No Discriminacion
https://www.nutritionnc.com/nondiscrimination.htm