USDA's Food and Nutrition Service has extended certain active waivers to provide flexibilities as state agencies provide WIC services while working towards reopening.
In support of social distancing, the list of Program Waivers for the North Carolina WIC Program include:
Physical Presence – All appointments are currently being completed over the phone.
Remote Benefit Issuance -Everyone who receives WIC is getting their food benefits automatically issued because of COVID-19.                                                     WICDuringCOVID-19 / WICDuringCOVID-19-SPANISH                                                                                    
Food Package Waivers (Milk, Whole Grains, and Yogurt) – Download the BNFT App to see your food benefits and when they expire.                                                                  Waivers-COVID-19  / Waivers-COVID19-SPANISH                                                                                                                          
Vegetable and Fruit Increase Provides More Nutritional Access to WIC Families – Cash Value Benefit for vegetables and fruits have increased to $35 beginning June 1, 2021 until September 30, 2021.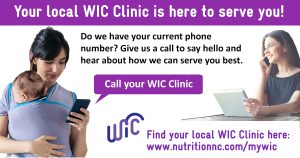 The Granville Vance WIC Program is here to serve you!
If you need a WIC appointment, we can do it over the phone. Give us a call at:
Granville County WIC
(919) 693-1333
or
Vance County WIC
(252) 492-3147.