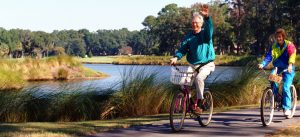 I want to sell food at a festival.  What is required?
Check with the event organizer first to get information regarding food sales.  Submit an application that gives details on your food booth.  If you are already a permitted Mobile Food Unit, you will not need to fill out an application, but the event organizer will still need to get information from you.  Vendors who are not already permitted as a Mobile Food Unit or who are not a tax-exempt group will need to submit an application with a fee to the event organizer who will turn the applications in to Environmental Health.  Our office will inspect your food booth on the day of the event approximately 2 hours before the scheduled opening.
How many times per year is a childcare inspection done?
Twice per year an unannounced inspection is made by Environmental Health staff.  Additional inspections are required if a childcare center receives a "provisional" or "disapproved" rating.
What kind of swimming pools are inspected?
Any public pool, spa or wading pool that serves more than one family is inspected and must receive an annual permit to operate.  These pools may be located at apartments, condominiums, community centers, duplexes and health clubs.
How often is a tattoo artist inspected?
Inspections are conducted at least once per year.  A new permit is required for each artist annually.
Are mobile food units and pushcarts required to have an inspection and post a grade card?
Mobile Food units and pushcarts are permitted and inspected by the Health Department and must display a grade card.
Where can I find the rules for Environmental Health?
NC Environmental Health rules and regulations are located in the Environmental Health section of the NC Health and Human Services website